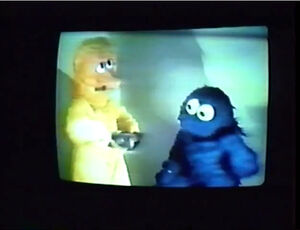 The Human Language Series is a documentary series that aired on PBS in the early 1990s, studying all aspects of human language, from conception to how it is learned.
Sesame Street is heavily featured in the second film of the series, Acquiring Human Language. Clips from a sketch where Ernie teaches Ernestine his name are shown between some interviews. A small portion deals with a question regarding Cookie Monster and a clip from a sketch with him is shown. Additionally, when showing how kids can understand contextual orders, they are shown footage of people in Big Bird and Cookie Monster costumes and identify the right monitors by what's described to them.
Ad blocker interference detected!
Wikia is a free-to-use site that makes money from advertising. We have a modified experience for viewers using ad blockers

Wikia is not accessible if you've made further modifications. Remove the custom ad blocker rule(s) and the page will load as expected.