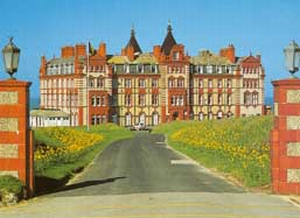 The Headland Hotel is a luxury establishment located in Newquay, Cornwall, England. First opened in 1900, the hotel has played host to nobility (including King Edward VII), was converted into an RAF hospital during World War II, and in more recent years, has been utilized for fashion shoots, live radio broadcasts, and film location shooting.
In the latter capacity, the Headland portrayed the Hotel Excelsior in The Witches, joining the ranks of Knebworth House and Vassar College, who had previously delivered stolid, unyielding, firmly grounded character performances in Henson films.
External links
Ad blocker interference detected!
Wikia is a free-to-use site that makes money from advertising. We have a modified experience for viewers using ad blockers

Wikia is not accessible if you've made further modifications. Remove the custom ad blocker rule(s) and the page will load as expected.