The Haunted Mansion is an attraction that first opened in Disneyland in 1969. Paul Frees supplied the distinctive voice of the narrator, the Ghost Host.
In 2012 a series of Disney pins were released featuring the Muppets in Doombuggies, the cars that transport guests through the ride, alongside many of the 999 ghosts that reside in the mansion.
In August 2015, Rowlf the Dog performed a dramatic reading of lyrics from the song "Grim Grinning Ghosts" in an Oh My Disney video. He's accompanied by a ghost named Bernard (played by Peter Linz) who lurks behind him during the reading. When Rowlf gets to the line about the ghosts coming out to socialize, Bernard ceases his spooky haunting and approaches Rowlf to suggest they go get coffee.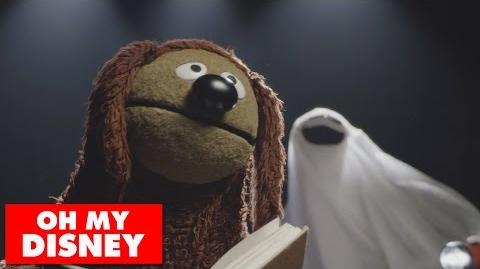 Connections
Ad blocker interference detected!
Wikia is a free-to-use site that makes money from advertising. We have a modified experience for viewers using ad blockers

Wikia is not accessible if you've made further modifications. Remove the custom ad blocker rule(s) and the page will load as expected.