The Great Gonzo's Pandemonium Pizza Parlor
Talk

0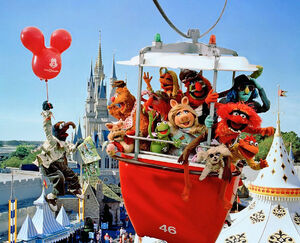 The Great Gonzo's Pandemonium Pizza Parlor was an abandoned concept for a Muppet-themed restaurant for Disney-MGM Studios (now known as Disney's Hollywood Studios) in Walt Disney World, Florida. The concept was to create a restaurant run by Gonzo and Rizzo.
Part of the original concept was to have animatronics Muppet rats deliver pizza to the tables by way of a "train track" system. Other features from the concept included Gonzo being heard crawling through the duct work along the ceiling, video screens depicting classic Muppet clips as well as the pandemonium in the kitchen (featuring Gonzo, Rizzo and the Swedish Chef), and the occasional explosion, blowing open the doors of the kitchen sending clouds of smoke and chicken feathers into the dining room.
The walls of this restaurant, similar to the lobby of Muppet*Vision 3D, would have been covered with recreations of props from various Muppet films and shows, as well as random sight gags.
Source