The Good, the Bad and the Ugly
Talk

0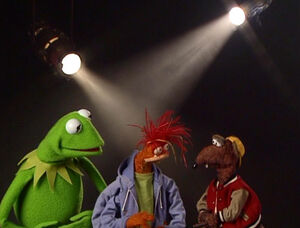 The Good, the Bad and the Ugly is a 1966 Italian epic spaghetti western film directed by Sergio Leone and starring Clint Eastwood.
The film was spoofed with a "Movie Mania" interstitial made for the Odyssey Channel, featuring Kermit, Rizzo, and Pepe.
In the extended version of the "Food Fight" Muppisode, an insult contest is illustrated with a title card depicting Gordon Ramsay, Statler and Waldorf as "The Good, the Bad, and the Grumpy."
External links