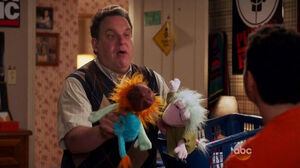 The Goldbergs is a 2013 ABC sitcom set in the 1980s, based on creator Adam Goldberg's family.
Mentions
Season One
Season Two
Season Three
"Jimmy 5 is Alive": Coach Meller refers to Adam as "that weird kid with the Muppet voice" and "Muppet Boy."
"Couples Costume": Pops mistakes a child's Kermit the Frog Halloween costume for "Herman the Frog." He then tells the child, "Wakkity, wakkity!"
"The Tasty Boys": Developing a rap group, Adam suggests their signature style be based on the Fraggles. He recommends Barry dress as Boober, Geoff as Wembley and then debates over being a Doozer or a Gorg.
"Lainey Loves Lionel": Erica claims that Barry's attempted sculpture of Lainey looks like "someone sat on a puppet from The Dark Crystal."
"12 Tapes for a Penny": Adam's claim to be a badass is immediately contradicted when Beverly calls him down to watch Muppet Babies. Later, one of Adam's fake aliases to get cheap tapes from Columbia House is "Kermit D. Fonz." The package then contains a cassette of The Songs of Fraggle Rock.
"Magic is Real": Erica tells Adam that her celebrity heartthrobs are set apart from him in that they "don't cry at The Muppet Movie." Adam responds, "If 'Rainbow Connection' doesn't move you to tears, then you're not alive!"
Season Four
"Recipe for Death II: Kiss the Cook": Dave Kim lists off "Fraggles" among Adam's nerdy obsessions.
"So Swayze It's Crazy": Adam uses an Animal puppet in a dramatic scene for his acting reel.
"Fonzie Scheme": A Red Fraggle doll is seen in the Goldberg's basement.
"Jedi Master Adam Skywalker": Uncle Marv describes the film Gremlins, claiming the title creatures are "little Muppets."
Connections
Ad blocker interference detected!
Wikia is a free-to-use site that makes money from advertising. We have a modified experience for viewers using ad blockers

Wikia is not accessible if you've made further modifications. Remove the custom ad blocker rule(s) and the page will load as expected.