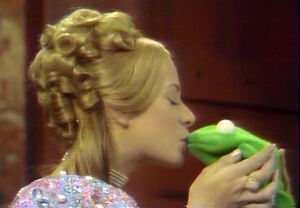 The Frog Prince is a classic fairy tale (most famously told by The Brothers Grimm) about a princess, who befriends a frog that's actually a prince under a spell. In most versions, the spell is broken by a kiss between the two.
Since the most well-known Muppet character is a frog, references to the story are often made in various Muppet productions. The most substantial was the production of the story with the Tales From Muppetland special, The Frog Prince.
References
On the November 16, 1975 Cher show, Kermit tells Chastity Bono that sometimes kissing a frog would turn him into a handsome prince. "Didn't happen that time," he says.
In another Sesame Street News Flash sketch, a princess picks reporter Kermit as her prince, hoping a kiss will turn him into one. She instead turns into the frog and the two head off to the "hop."
While singing "At Your Library" dressed as a princess, Olivia kisses a frog, and shrugs when nothing happens.
During an appearance on Can We Talk?, Joan Rivers asks Kermit if she kissed him, would he turn into a prince. Kermit replies, "We could try it... I wouldn't put any money on it. But it's the sort of thing people try. It may happen some time."
Out on a date with Dolly Parton in a 1987 episode of Dolly, Kermit tells Parton that if she should kiss him, there's no prince, "This is as good as it gets." Parton cites his rugged handsomeness as being good enough for her.
In CinderElmo, suitors Ernie and Bert each receive a kiss from the princess. Ernie jokes, "Wow, Bert. We just got kissed by a beautiful princess and we didn't turn into frogs!'
Ernie and Bert re-enacted the story in a 2011 edition of Ernie & Bert Märchensongs, a Sesamstrasse mini-series. Bert plays the role of the princess, who turns into a frog upon kissing the titular amphibian (played by Ernie).
A season 42 episode of Sesame Street is based around the story, where a princess desperately tries kissing a frog to make him a prince.
​Connections
Ad blocker interference detected!
Wikia is a free-to-use site that makes money from advertising. We have a modified experience for viewers using ad blockers

Wikia is not accessible if you've made further modifications. Remove the custom ad blocker rule(s) and the page will load as expected.