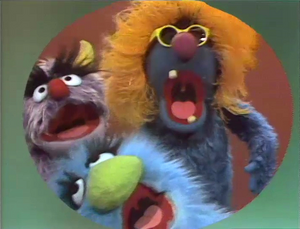 The Frazzletones, a backup singing group of monsters, appeared on Sesame Street in 1975 singing the song "Frazzle" with Frazzle himself.
The Frazzletones were performed by Christopher Cerf, Richard Hunt, and Jerry Nelson. The monsters in the group are the same puppets used for the Aristocrats: Maurice Monster, an unnamed lavender monster and the early version of Harvey Monster, but with a yellow wig and glasses added (similar to Little Chrissy).
Ad blocker interference detected!
Wikia is a free-to-use site that makes money from advertising. We have a modified experience for viewers using ad blockers

Wikia is not accessible if you've made further modifications. Remove the custom ad blocker rule(s) and the page will load as expected.