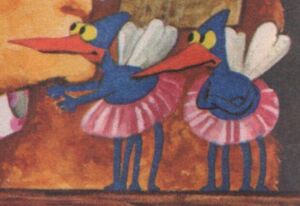 The Flea Sisters appear in the 1982 Muppet Show storybook Bo Saves the Show. They are waiting Backstage of The Muppet Theatre with Miss Piggy to find out when they go on, when the Monsters come crashing out of the cellar.
Ad blocker interference detected!
Wikia is a free-to-use site that makes money from advertising. We have a modified experience for viewers using ad blockers

Wikia is not accessible if you've made further modifications. Remove the custom ad blocker rule(s) and the page will load as expected.