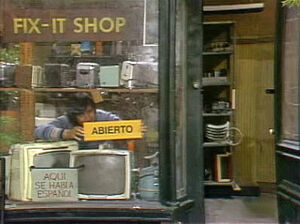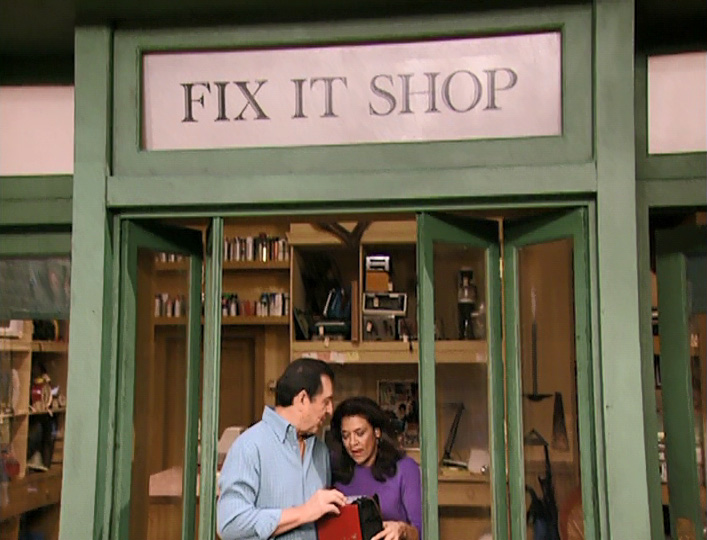 The Fix-It Shop is a business on Sesame Street run by married couple Luis and Maria. They can repair just about anything, though the considerable number of toasters they are seen fixing, suggests that that appliance is their specialty. The toasters they have fixed have come in a spectrum of sizes, including giant ones dropped off by Mr. Snuffleupagus and his family. In the days before Snuffy was seen by the grown-ups, many people were perplexed by the sheer size of these toasters.
The Fix-It Shop opened in Episode 0330 as the L and R Fix-It Shop, in a building that was previously a pet shop[1] and library. It was originally run by Luis and Rafael. Their first job was repairing Susan's broken picture frame. Rafael left the show after season three, and the shop was thereafter known only as the Fix-It Shop. Maria later got a job at the Fix-It Shop, and she became a full partner in Episode 1563. The shop was renovated in season 11 during the week of Episodes 1411-1415.
The Fix-It Shop is located next door to Hooper's Store. A workbench on the sidewalk in front of the shop allows Maria and Luis extra space for their repair work.
In 2002, the business became the Mail-It Shop, but as of 2006's Episode 4109, Maria and Luis had converted the store back, with no on-screen explanation why.
In Season 39, the Fix It Shop was removed from the set, its old spot was replaced by the Laundromat where Leela works. A shop seen to the left of the Laundromat was hinted to be where the Fix-It-Shop relocated,[2] although it was shown to be for sale and later as a flower shop. During season 45, the area was converted to a bicycle shop run by Luis.
The 1992 book, Grover's 10 Terrific Ways to Help Our Wonderful World , the Fix-It Shop is given particular attention as an example of the prescient environmentally responsible idea to have personal items repaired when possible for continued use rather than simply replacing them. In the illustration of this tip, the various monsters of Sesame Street are delivering their damaged possessions to Luis who evidently appreciates both their responsible behavior as well as the business.
Employees
Sources