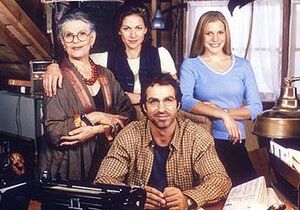 The Fearing Mind is a one hour TV series produced by the Jim Henson Company which premiered on Fox Family Channel on October 21, 2000. Though a full 13-episode season was ordered and produced, only six actually aired. The series focused on Bill Fearing, a Stephen King-esque writer of horror tales and mysteries (published under the name W. M. Fearing), and how his imagination intersected with his daily life. From Bill's perspective, the show revealed how everyday occurrences were reshaped in Bill's mind. Supporting characters includes his wife Cynthia, teenage daughter Lenore, bossy mother-in-law Grandma Lucy, and bookseller friend Howard.
The series actually began life as an unsold pilot called Masters of Horror and Suspense. Produced in the spring of 1999, the project was pitched to NBC. The premise was essentially identical, but the lead character was named Will Masters (played by Michael McKean) and other supporting characters differed (for example, Will Masters had a son as well as a daughter). Lisa Waltz also appeared in the pilot, while Kevin Kilner played a detective in both Masters of Horror and the Fearing Mind pilot. The project was revived as The Fearing Mind and shooting began in July 2000. Guest stars included Harold Gould.
Both the pilot and the series were created by writers Billy Brown and Dan Angel (whose other credits include episodes of Goosebumps and X-Files) and were filmed in Vancouver, British Columbia, Canada. Brian Henson received executive producer credit on the pilot while Ritamarie Peruggi filled a similar function on the series.
Cast
Harry Van Gorkum as Bill Fearing
Susan Gibney as Cynthia Fearing
Katee Sackhoff as Lenore Fearing
Rae Allen as Grandma Lucy
John Fleck as Howard
Sources
The Studio System. Subscriber only. Accessed in October 2008.
Brooks, Tim and Earle Marsh. The Complete Directory to Prime Time Network and Cable TV shows: 1946-Present. 2003.