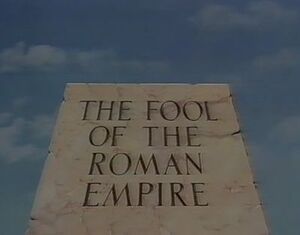 The Fall of the Roman Empire is a 1964 film epic, depicting corruption, political intrigue, and decadent excess during the reign of Marcus Aurelius.
The movie was very loosely spoofed, mostly in title, in the 1981 special The Muppets Go to the Movies as "Fool of the Roman Empire." Effectively a spoof of Roman epics in general, it takes place in the time of Julius Caesar (rather than Aurelius) and involves piano music and chariot races (both elements conspicuously absent from the 1964 film).
Connections
Ad blocker interference detected!
Wikia is a free-to-use site that makes money from advertising. We have a modified experience for viewers using ad blockers

Wikia is not accessible if you've made further modifications. Remove the custom ad blocker rule(s) and the page will load as expected.