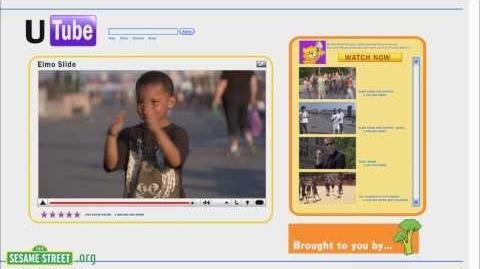 "The Elmo Slide" is a Sesame Street song performed by Elmo. In a U Tube video, Elmo shows how to do his dance. The dance is intercut with footage of New York citizens and celebrities dancing along.
Celebrities include Ryan Reynolds, Alton Brown, Terrence Howard, and Usher.
The song is a parody of the "Cha Cha Slide."
Notes
The video is shown to have a five-star rating and 5,898,980,098 views.
The related videos in the sidebar are "Elmo Sings And Dances", "Elmo Sings And Dances...Again", "Yeah More!" and "You Guessed It! Even More!"
Releases
Audio
Video
Ad blocker interference detected!
Wikia is a free-to-use site that makes money from advertising. We have a modified experience for viewers using ad blockers

Wikia is not accessible if you've made further modifications. Remove the custom ad blocker rule(s) and the page will load as expected.