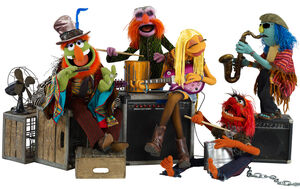 The Electric Mayhem Tour was a proposed tour to promote an album of songs performed by My Morning Jacket under the guise of Dr. Teeth and the Electric Mayhem. According to band member Tommy Blankenship, the tour would have featured My Morning Jacket performing backstage, while audio animatronics of Dr. Teeth and the Electric Mayhem would have performed onstage,[1] similar to the animated band Gorillaz. The concept was scrapped when the Disney executive who had recruited the band was fired.[2]
The songs "Wonderful," "Friends Again," and "Out of My System" were among those written for the tour/album[3] and have since been performed by My Morning Jacket on albums and tours.
Sources
↑ "My Morning Jacket Find Killer New Groove on 'Circuital'." Brian Hiatt. Rolling Stone. March 3, 2011.
Ad blocker interference detected!
Wikia is a free-to-use site that makes money from advertising. We have a modified experience for viewers using ad blockers

Wikia is not accessible if you've made further modifications. Remove the custom ad blocker rule(s) and the page will load as expected.