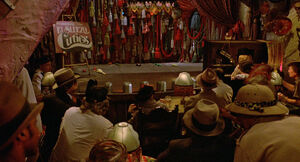 The El Sleezo Cuties are the dancing girls who regularly perform at the El Sleezo Cafe. During The Muppet Movie, the group is on vacation, and in their absence, entertainment is provided by Fozzie Bear. As the crowd reacts violently, Kermit regrets the absence of the Cuties, to calm the patrons. Fozzie's response: "If you think this crowd's ugly, you should see the dancing girls."
Ad blocker interference detected!
Wikia is a free-to-use site that makes money from advertising. We have a modified experience for viewers using ad blockers

Wikia is not accessible if you've made further modifications. Remove the custom ad blocker rule(s) and the page will load as expected.