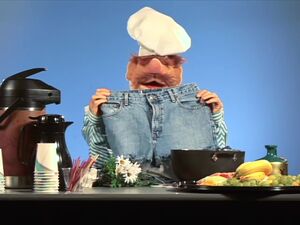 The Dukes of Hazzard is an American television series that aired on CBS from 1979 to 1985. Inspired by the 1975 film Moonrunners, the series followed cousins Bo and Luke Duke, their adventures in the fictional Hazzard Country, Georgia, and their run ins with the corrupt Boss Hogg and the inept sheriff Rosco P. Coltrane.
The series impacted popular culture at the time, leading girls to wear "Daisy Dukes" (named after Catherine Bach's short shorts) and boys to model their cars after the "General Lee" (a modified 1969 Dodge Charger R/T).
The show also incorporated a recurring gag of Country Music celebrities being caught in a speed trap in Hazzard County. Among those found in violation were Buck Owens, Tammy Wynette and Loretta Lynn.
The 2005 feature film remake was referenced in episode 4 of Statler and Waldorf: From the Balcony. Statler and Waldorf review the film, and The Swedish Chef makes a pair of Daisy Duke jeans to promote the big screen film (the ingredients include a pair of cut jeans, a bouquet of daisies, a splash of moonshine, some cream, a handful of sugar packets and some Simpson (Jessica not O. J.).
Connections
External links
Ad blocker interference detected!
Wikia is a free-to-use site that makes money from advertising. We have a modified experience for viewers using ad blockers

Wikia is not accessible if you've made further modifications. Remove the custom ad blocker rule(s) and the page will load as expected.