Premiere
October 2013
Network
Nick Jr / Foxtel (Australia)
Cartoonito (Europe/Africa)
Boomerang (Germany)
Hulu (USA)
Seasons
2
Episodes
72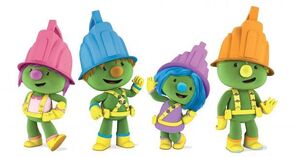 Jim Henson's Doozers is a computer animated television series featuring the Doozers of Fraggle Rock. Starring four young Doozers (Spike, Mollybolt, Flex and Daisy Wheel), the series takes place in Doozer Creek, a self-sustainable community located just beyond the view of humans. The series focuses on cooperation, teamwork, inventing, technology, and eco-consciousness.
The show premiered in Australia on October 7, 2013, with new episodes airing weekdays at 9AM on Nick Jr via Australia's subscription television service, Foxtel. The Doozers debuted in various territories across Europe (including the UK), the Middle East, and Africa via Turner's preschool channel Cartoonito in October 2013. It is also planned to make its way to Discovery Kids Latin America and Cartoon Network Asia. A German dub premiered on December 13, 2013, on pay-TV channel Boomerang.
The series premiered in the United States exclusively on Hulu on April 25, 2014.
Season 2 of The Doozers was produced between June 12, 2017 and March 12, 2018.[1] It premiered on May 25, 2018.[2]
Description
Doozers are three inch tall, green characters who live in communities (just beyond the view of humans) all around the world. The new animated series is set in Doozer Creek, a high-tech enchanted forest that merges nature with innovation. It's a self-sustaining, green community that exists in harmony with nature and generates zero waste. In every eleven-minute episode of Doozers, viewers will follow the adventures of four brand new Doozer kid characters: Spike, Mollybolt, Flex, and Daisy Wheel, each with differing characteristics and skills. Together they make up the bright, bold, and fun "Pod Squad" who share a passion for inventing.[3]
Characters
Picture
Description

Voice: Millie Davis

Daisy Wheel

"

Daisy Wheel is the youngest, cutest, and smallest member of the Pod Squad, but she's not shy; she always shares her thoughts and ideas. When the team is going off track, Daisy Wheel is the first to let them know! Like many great inventors, Daisy's observations of nature inspire her work and play. She loves all animals, and her answer to most of the Pod Squad's problems is: "Let's Ask Nature!". She loves puzzles, singing, and turning everything into a game to help explore and understand her world. Daisy Wheel brings cheer and excitement to every project the Pod Squad takes on!.[4]

"

A daisy wheel is a tool used in impact printing.

Voice: Trek Buccino

Flex

"

Need a friend to help build a remote-controlled mini solar system on your bedroom ceiling, or a catapult for launching radishes across town? Then Flex is your Doozer! Flex loves to paint, hammer, put up and knock down all kinds of creations. Flex lives on his grandparents' farm and he uses his bedroom as his workshop. He also drives the Pod Squad's Podmobile, captains the Podblimp, and is often the "test pilot" of new inventions (especially if they are treats or toys!).[5]

"

Voice: Jacob Ewaniuk

Spike

"

There is NOTHING too big for Spike to imagine – then help to build and try out! He has a million ideas and is just bursting to try them all.

He's the one that pushes the Pod Squad members into action, and his ideas sound like so much fun that it's hard for them to say "no"! More than the others, Spike is willing to take risks. He likes to take things apart to figure out how they work, and he uses his digital Doozigner tablet to dream up lots of possibilities. Like any great inventor, Spike doesn't worry too much about mistakes or problems. Spike's mum is the Chief Doozer of Doozer Creek and his little sister is Daisy Wheel.[6]"

Voice: Jenna Warren

Molly Bolt

"

Molly loves organizing all kinds of events for her friends, whether it's a picnic in the treetops or ice-block sledding down the grassy hills. One of her favorite phrases is "You know what would be FUN?". She loves planning, list-making, maps, and graphs – she has a giant map of Doozer Creek on her wall to help get her where she needs to be. She helps keep the group organized and on track, but when she's not spending time with the Pod Squad, Molly likes to design and make her own accessories. So if a Doozer wants to decorate their hardhat, Molly's the one to see!

Molly Bolt lives in a treehouse with her father, Baker Timberbolt, and mother, Chief Architect.[7]"

A molly bolt is a kind of specialized fastener used for drywall.
Development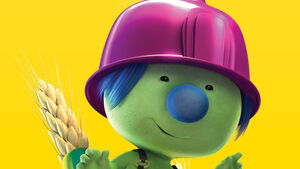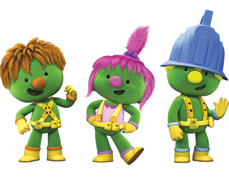 "

Who could forget the industrious little Doozers who wore hard hats as they cheerfully labored alongside the Fraggles, building scaffolds composed of 'Doozer sticks' made of 'radish dust'? Now the Doozers are back to inspire kids to make the world a better place by making smart, eco-friendly choices, and by inventing tools, gadgets, buildings, structures, and other technology that supports the environment's ecology.

"


—Halle Stanford, Jim Henson Company executive vice president for children's entertainment.
The series was produced by the Jim Henson Company with Decode Entertainment.
The series was presented for sale at television industry conference MIPTV in 2009. A March 2009 press announcement stated that test animation was being made, with the series to comprise 52 eleven-minute episodes (or 26 half-hour broadcast episodes). Production was originally planned for fall of 2009 with release estimated for fall 2010; however production was delayed as the Henson Company continued to seek out broadcasters.[8]
On July 3, 2012, a press release from DHX Media (parent company of Decode) announced that the production had been greenlit and the series would begin production in July 2012 at DHX computer animation studio in Hallifax, Canada. The press release also noted that the Jim Henson Company was still "in negotiations" with broadcasters around the world to sell the series, and would be presenting it yet again at the MIPJunior and MIPCOM events.[9]
On September 12, 2012, it was announced that the series would be released coinciding with the 30th anniversary of Fraggle Rock in 2013.
The Jim Henson Company also plans to carry the series' inventing and building philosophy into interactive digital content and consumer products.
Cast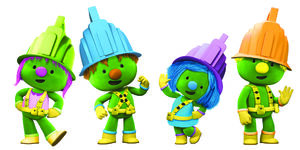 Crew
Episodes
Season 1:
Project Radish-A-Pult: A gust of wind knocks a large branch onto a bridge in Doozer Creek, blocking the path and halting construction of a new wind turbine.
Pod Squad Boogey: The Pod Squad is performing in the Starlight Concert, but when they hear other Doozers singing, the group decides they need to do something to stand out.
Jetpack Away: When Daisy Wheel's jetpack goes on the fritz, Flex volunteers to fix it. But he makes it so fast that it flies out of her reach and all over Doozer Creek.
Follow Your Nose: After a huge order at the bakery is cancelled, Molly's Dad, Baker Timberbolt, is left with 100 extra Smackleberry muffins. The Pod Squad run all over town trying to get rid of the muffins.
Bubbles: The Pod Squad invents the Cleanamajigger, the ultimate cleaning machine that's a combination vacuum/floor polisher/bubble sprayer and scrubber.
Mega Magnet Mover: Flex is making a clock for his Grandpa's birthday. But as he goes to put the finishing touches on his design, he realizes he's lost his Doodriver.
Zip It: Spike is interrupted in the middle of finishing his new zip line outside the Doozerium when the Pod Squad needs to go help out at the Peach Harvest.
Green Thumbs: Inspired by Professor Gimbal, the Doozers learn to build a garden that goes up, instead of out, and now there's plenty of room for all the plants.
Be Leaf It: The Fall Foliage Festival was a success, but now the Pod Squad needs to figure out what to do with all the spare leaves they've collected.
Spookypalooza: It's Spookypalooza! The Pod Squad makes the spookiest pumpkin ever by stacking three pumpkins together.
An Itch You Can't Scratch: Professor Gimbal is getting rid of some of his old inventions, but he's bummed that he has to throw them out. That's when the Pod Squad decides to re-purpose them in a whole new way.
Doozer Derby: Doozer Creek is hosting the Doozer Derby, a design-your-own Doozer Derby Cart race. The Pod Squad want to enter but they can't settle on one design.
Dancing Doodad: There's a big dance tonight in Doozer Creek and every Doozer will be there; every Doozer but Doozer Doodad, that is.
A Doozer of a Dippleplant: With the help of Flex's grandpa, the Pod Squad is on track to grow the largest dippleplant in Doozer history!
Home Tweet Home: Molly's house has a new tenant-a bird! Working together, the Pod Squad designs the ultimate home for their new friend, but soon realize that maybe a 'Doozer' house isn't what the bird had in mind.
Doozers Amusers: The Pod Squad is thrilled when Professor Gimbal introduces them to his new baby nephew, Pinball. There's just one problem - the baby won't laugh or even smile!
Safe from Sound: At home, Spike and Daisy Wheel are startled by a horrible screeching sound - and it's coming from inside the house! It's their mom, learning a new instrument called the Doozeedoo!
A Sticky Situation: The Pod Squad is busy working away at a new playground in Doozer Creek when Professor Gimbal slips on the bridge and gets stuck in a termite mound fort!
Gift for Gimbal: The Pod Squad want to get Professor Gimbal a gift, but what do you give the Doozer that has everything? Playing detective, they follow him around Doozer Creek, collecting clues about what he might like.
Catch a Ride: Everyone in the Pod Squad has their own vehicle except Molly. After trying out her friends' rides, the group decide to create a custom vehicle made especially for her.
Little Feats: Being the smallest, Daisy Wheel has to make two trips to carry as much as the bigger kids, but she doesn't mind because that mean more time to explore the world around her.
Flex Art: There's an art festival in Doozer Creek and every Doozer is busy creating their own masterpiece; everyone except Flex. He's more of an inventor than an artist, and he's totally stumped. With a little help from Doozer Deidra, the town artist, Flex learns that art can be anything and gets busy building his own unique piece de resistance.
Butterfly Away: The Monarch butterflies are making their annual migration through Doozer Creek when Daisy Wheel notices a single butterfly still lingering in town. The Pod Squad decides to help get the butterfly back to the others without scaring it away.
The Legend of Doozer Creek: It's a big Pod Squad sleepover at Molly's house! The gang wants to hear a spooky story! Baker Timber Bolt obliges, reading a classic: The Legend of Doozer Creek. It's how Spookypalooza came to be celebrated in Doozer Creek!
Mystery Box: Professor Gimbal gives the Pod Squad a curious present-a Mystery Box with a surprise inside. Now they just have to figure out how to open this strange looking box!
Detective Doozers: Professor Gimbal is tired and frustrated. He can't figure out how to finish his latest invention. To make matters worse, his old inventions are going missing. The Pod Squad volunteer to figure out what happened to the missing items and become ...The Detective Squad! They soon discover Professor Gimbal has been stealing- in his sleep!
Up, Up and Away:
Hiccup-a-Majig:
Cake Walk:
The Eggcellent:
Pod Ball:
Enter the Ditzies:
Doozermahoozit:
Trouble Below:
Daisy Wheel on Ice:
The Gingerbread House:
Mapping Quest:
Dune Buddies:
Big Stars:
Light Where It's Dark:
Doozers on Parade:
Doozers Re-Users:
It's a Breeze:
Three's a Team:
Sky High Doozers:
A Windy Wonder:
Short Order Doozers:
The Blue Beaker:
Picture Perfect:
In a Fog:
Starry Night:
The Pod Squad Pavilion:
Season 2:
Dirty Driving Doozers:
Gift-spiration:
Key Ingredients:
Doozers Unplugged:
Blue Beaker Sneaker:
Dandelion Dilemma:
Get Creative:
Crash Test Doozers:
Danger in Doozer Creek:
The Rainbow Connection:
Cocoon Season:
If It Falls:
Stage Plight:
Oh BeeHive:
Doosquatch:
Level Up:
Holed Up:
In a Jam:
Doocathlon:
Sand Sliders:
Muppet References
Notes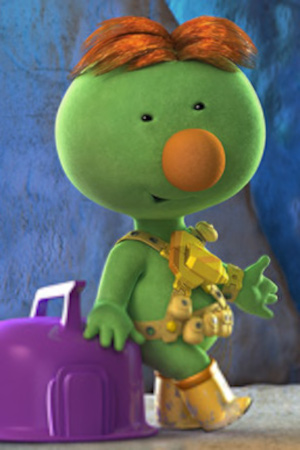 Early publicity for the series listed such Doozer names as Baxter, Puzzlebea and Daze for the central characters.
Sources
External links