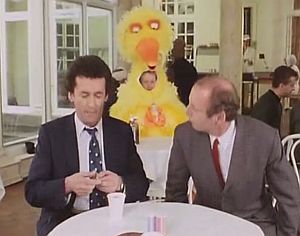 The Detectives was a BBC sitcom which ran from 1993 until 1997. The show focused on two incompetent detective constables, Bob Louis (Jasper Carrott) and Dave Briggs (Robert Powell), as they stumbled into a variety of cases (usually murder). Like many BBC shows, the series later aired on select PBS stations.
In the fourth episode "Acting Constables" (broadcast on February 13, 1993), the pair land a cushy assignment as technical advisors to a TV police drama. An actor in a shoddy Big Bird costume (played by Alan Bodenham) continually pops up throughout the episode, first to punctuate a gag when Louis queries Briggs on his sexual attraction to "big birds." The detectives continue to run into the faux-Muppet, at one point removing the costume's head while chasing the killer. The character is listed as "Big Bird" in the end credits.
Connections
Ad blocker interference detected!
Wikia is a free-to-use site that makes money from advertising. We have a modified experience for viewers using ad blockers

Wikia is not accessible if you've made further modifications. Remove the custom ad blocker rule(s) and the page will load as expected.