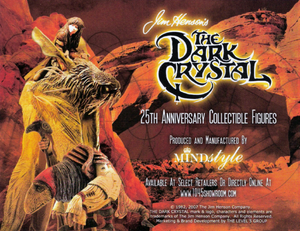 In August 2007, MINDstyle began to release a series of high-end Dark Crystal inspired statues crafted from polyresin. The company produced a 16" statue of Jen atop of a Landstrider, and a 6" polyresin statue of urAc the mystic scribe. Production of each piece was limited to only 2,500 items. The statues, dubbed to be first installments in the "Jim Henson Signature Collection", are limited editions hand painted polyresin statues. Each piece comes with an individually numbered collectors card and a collectible Dark Crystal keychain.

Prototyped statues
MINDstyle was planning to release an 18", limited edition replica of the Castle of the Crystal in 2009.[1] Additional high-end, limited-edition Dark Crystal items were also planned - including a replica of skekSil the Chamberlain, a large statue of Jen and Kira, and a stylized Aughra figure (based on Froud's early conceptual artwork). Prototypes of these statues were shown as the 2008 ToyFair in New York.
Sources
External links
Ad blocker interference detected!
Wikia is a free-to-use site that makes money from advertising. We have a modified experience for viewers using ad blockers

Wikia is not accessible if you've made further modifications. Remove the custom ad blocker rule(s) and the page will load as expected.