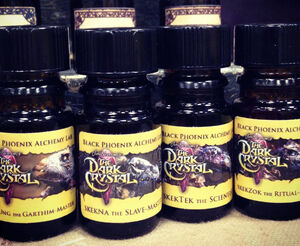 The Dark Crystal perfume from Black Phoenix Alchemy Lab debuted at Dragon Con 2013.
skekZok the Ritual-Master: An incense of deception: frankincense, opoponax, hyssop, champaca, and opium poppy accord.
skekUng the Garthim-Master: Brute force and destruction: vetiver, smoke, steel, and dragon's blood resin.
skekTek the Scientist: "Metal and stone beams of dark light: hyssop, black currant, black viola, passionflower, and myrrh."
skekNa the Slave-Master: "The essence of vile gluttony: an abundance of spices, sweet cakes, thick creams, and opulent liqueurs mixed with the scent of whip leather and rusted padlocks."
External links
Ad blocker interference detected!
Wikia is a free-to-use site that makes money from advertising. We have a modified experience for viewers using ad blockers

Wikia is not accessible if you've made further modifications. Remove the custom ad blocker rule(s) and the page will load as expected.