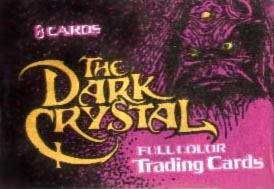 A series of Trading Cards featuring images from The Dark Crystal was released in 1982. The Donruss Company created a series of 78 trading cards from the film. Originally sold in packs of 8 cards (via boxes of 36 packs). Each card featured a picture on the front and part of the story of The Dark Crystal (collecting all the cards will provide the whole story).
"

The Dark Crystal Full Color Trading Cards with the exciting story of The Dark Crystal. See The Dark Crystal at your neighborhood movie theater!

"
External Links
Ad blocker interference detected!
Wikia is a free-to-use site that makes money from advertising. We have a modified experience for viewers using ad blockers

Wikia is not accessible if you've made further modifications. Remove the custom ad blocker rule(s) and the page will load as expected.