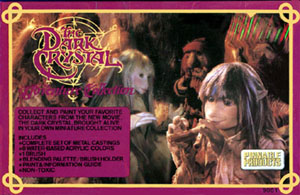 In 1982 Pinnacle Products released two sets of miniature die-cast Dark Crystal figures as part of their "Adventure Collection Miniatures" series. The figures, available at hobby stores, came with paint to color the miniature collectibles.
"

Collect and paint your favorite characters from the new movie, The Dark Crystal, brought alive in your own miniature collection.

"
Sets
Ad blocker interference detected!
Wikia is a free-to-use site that makes money from advertising. We have a modified experience for viewers using ad blockers

Wikia is not accessible if you've made further modifications. Remove the custom ad blocker rule(s) and the page will load as expected.