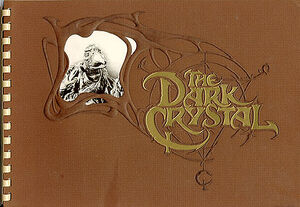 A promotional photo album for The Dark Crystal was released in 1982. The album featured thirty-six full-image pages. The album featured color and black and white production photos and movie stills along with sketches and artwork by Brian Froud. The book also included the full movie credits. The front cover had the title embossed with gold lettering and a die-cut hole exposing a picture.
Sections
The Story
The Production
Credits
Ad blocker interference detected!
Wikia is a free-to-use site that makes money from advertising. We have a modified experience for viewers using ad blockers

Wikia is not accessible if you've made further modifications. Remove the custom ad blocker rule(s) and the page will load as expected.