Ad blocker interference detected!
Wikia is a free-to-use site that makes money from advertising. We have a modified experience for viewers using ad blockers

Wikia is not accessible if you've made further modifications. Remove the custom ad blocker rule(s) and the page will load as expected.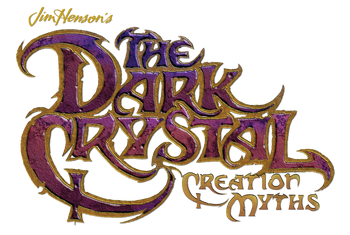 The Dark Crystal: Creation Myths is a graphic novel series by Archaia Studios Press based on the world of The Dark Crystal. Brian Froud, the conceptual designer for the films The Dark Crystal and Labyrinth, drew the covers for the project, and served as a creative consultant for the Henson line.
"To re-approach these characters has been wonderful," said Froud. "Shining through is the human heart, and that still stands up after all this time."[1]
Free Comic Book Day issue
Archaia released their first Dark Crystal story in their 2011 Free Comic Book Day flip-book (which will also include David Petersen's "Mouse Guard" on the reverse half). The book, released on May 7, 2011, also contained sneak peeks of Jim McCann and Janet Lee's "Time of the Dapper Man", and Jim Henson's "A Tale of Sand".
The story presented in the issue is an exclusive prelude to the forthcoming series of Dark Crystal graphic novels. This prelude begins the epic creation story of the world of Thra, and explores the origins of the world of the Dark Crystal.
Volume 1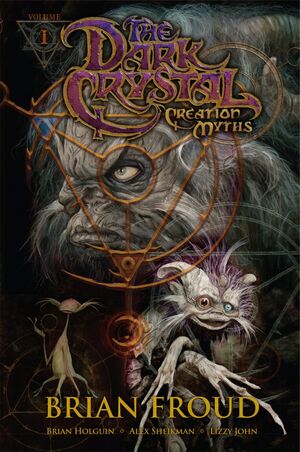 Description:
Release date: January 11, 2012
Extras: Contains The Dark Crystal story presented in the 2011 Free Comic Book Day flip-book.
Volume 2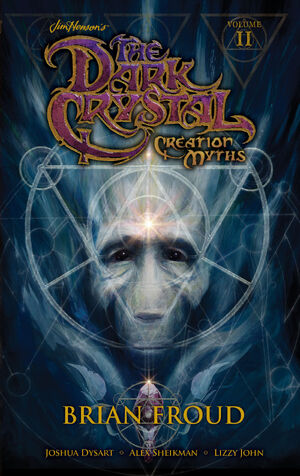 Description:
"
The Great Conjunction is at hand in this dramatic second volume of Archaia and The Jim Henson Company's trilogy of prequel graphic novels that tell the origin of The Dark Crystal. Aughra, the beloved guardian of Thra, has gone into hiding, while her son, Raunip, leads a team of emissaries to the Crystal Castle. There they will bear witness as the visiting Urskeks attempt to use the Conjunction to power their voyage home. But pain and mistrust fostered by the group leads to events that will corrupt the world to its very core and transform the Urskeks into two distinct races: the gentle urRu and the terrifying Skeksis. Brian Froud, legendary fantasy artist and conceptual designer of Jim Henson's The Dark Crystal film, returns to oversee this crucial chapter that reveals the tragic event that caused the Bright Crystal to darken and shatter. (96 pages, hardcover, full color)
"
Release Date: February 27, 2013
Extras: Contains the Dark Crystal Brian Froud's Sketchbook, and Reflections of Making The Dark Crystal And Working with Jim Henson, by David Odell {Screenwriter of The Dark Crystal and The Muppet Movie}
Volume 3
Description: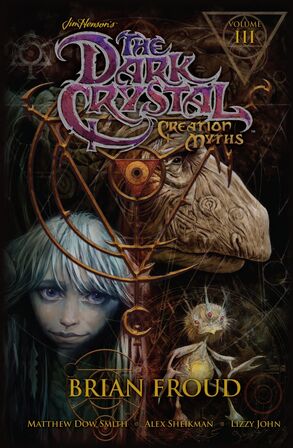 "
BRIAN FROUD, legendary conceptual designer of the beloved Jim Henson fantasy film THE DARK CRYSTAL, returns to the world he help create in this stunning conclusion of the official prequel to the original movie. The world of Thra is shattered. Following the events of The Great Conjuction, the once-powerful Urskeks have been split into two seprate beings: the Skeksis and the Mystics. Only Raunip and Aughra know their true origins, but they are trapped in the bowels of the world of Thra, searching for the shard of the Dark Crystal. But as the aftermath of the Great Conjuction wreaks havoc upon the Gelfling tribes, the Gelflings may have no choice but to rely upon the one race offering aid: the Skeksis. The species of Thra will have to decide who they can trust if they hope to keep their world together. (96 pages, hardcover, full color)
"
Release Date: October 07, 2015
Extras: The Dark Crystal ~ Characters in Development and sketches
See also
External links
Sources