| | |
| --- | --- |
| Released | September 29, 2007 |
| Duration | 91 minutes |
| Director | Wes Anderson |
| Written by | Wes Anderson, Roman Coppola, Jason Schwartzman |
| Studio | 20th Century Fox |
| Rated | R |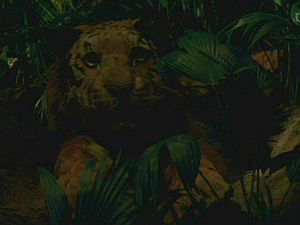 The Darjeeling Limited is a comedy-drama focusing on three brothers who attempt to reconnect while on the titular train in India. In one of several episodes, the boys eventually find their mother at a mission, who confirms rumors of a man-eating tiger in the area. During a long pan of various supporting characters arranged in a tableau on the train, an animatronic tiger appears fleetingly, supplied by Jim Henson's Creature Shop.
Drew Massey (credited as Andrew Massey) puppeteered the tiger.
Cast
Owen Wilson as Francis
Adrien Brody as Peter
Jason Schwartzman as Jack
Amara Karan as Rita
Wallace Wolordarsky as Brendan
Waris Ahluwalia as the Chief Steward
Bill Murray as the Businessman
Anjelica Huston as Patricia
Natalie Portman as Jack's Ex-Girlfriend
Ad blocker interference detected!
Wikia is a free-to-use site that makes money from advertising. We have a modified experience for viewers using ad blockers

Wikia is not accessible if you've made further modifications. Remove the custom ad blocker rule(s) and the page will load as expected.