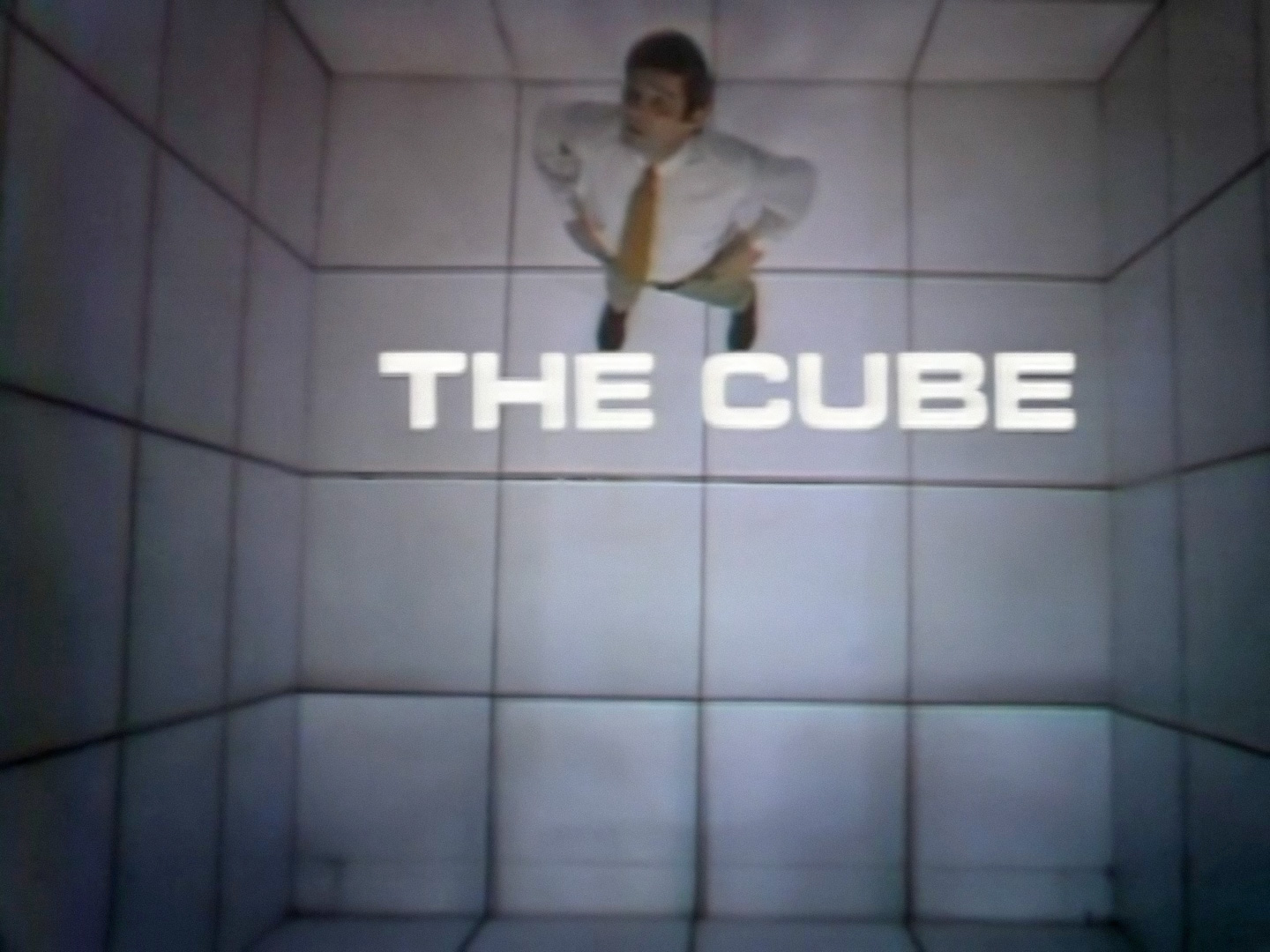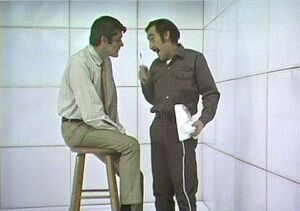 The Cube was an avant-garde drama written by Jerry Juhl and Jim Henson for television. It aired on NBC as part of the anthology series Experiment in Television on February 23, 1969. The program was rebroadcast two years later, on February 21, 1971.[1]
The hour-long piece takes place within a single set: a white, cubed space composed of a series of rectangular panels, in which the nameless protagonist is trapped. A steady stream of characters enter the cube, with recurring visits by the maintenance man Arnie and Mr. Thomas the manager, but they all exit through "their own door." Some visitors seem to know the man or want to offer advice and all are generally unhelpful to the man as he tries to unravel the mystery of where he is, how he got there, and how he can leave.
Topics explored include the definitions of reality and sanity, racism, sexuality, spiritual exploration, and the nature of freedom and being trapped, as well as many metatheatrical references to the play's status as a television drama.
The Cube was available for purchase on the iTunes Store from July 2008, but is no longer available.
Trivia
NBC's Experiment in Television had previously broadcast Jim Henson's documentary Youth '68.
During the encounter with the professor, discussing television drama, the joke credits for The Cube, displayed on a TV set within the main scene, show "Produced by: Don Sahlin" and "Directed by: Joseph Raposo."
Excerpts from the guitarist's song, prior to the negative "you'll never get out" passage, were included in the 2005 book It's Not Easy Being Green. The audiobook version had Jerry Nelson reading the lines.
In 2007, the Glassbooth Company performed a live stage production of "The Cube" at Germany's Freies Theater entitled "Kubus".[2]
Jerry Juhl makes an on-screen cameo in a projected party scene, and joins in on a conversation (presumably about The Cube), adding that he didn't care for the ending.
Credits
Cast
Crew
Written by: Jim Henson, Jerry Juhl
Directed by Jim Henson
Produced by Jim Henson
Casting: Pat Barney
Set Design: Jack McAdam of Design Service Associates
Electronic Music: Walter Sear
Associate Producer: David Robertson
Production Assistant: Joan Chilcott
Unit Manager: Jack Spiers
Floor Director: Gerry Bean
Make-up: Carol Davidson, Janet Nethercot
Set Dressing: David Jaquest, Gerry Holmes
Hairstyles: Max Axler
Technical Director: Jay Gellner
Lighting Director: Howard Galbraith
Audio: John Grimsditch
Video: Percy Brinkworth
Video Tape Editing: Keith Robinson, Ed Brennan
Production Facilities: Glen-Warren Productions Limited, Toronto
Sources