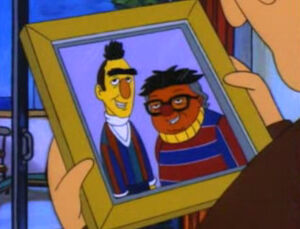 The Critic is an animated series that ran on ABC and FOX from 1994 to 1995 about a movie critic named Jay Sherman.
Mentions
In the season two episode "Siskel & Ebert & Jay & Alice," guest-starring Gene Siskel and Roger Ebert as themselves, Sherman is seduced by the two for a position as their co-host on their own TV show. As Ebert thumbs through a photo album, he points out a picture of himself and Siskel from the year they went as Ernie and Bert for Halloween, which was alluded to previously in the episode.
Connections
Ad blocker interference detected!
Wikia is a free-to-use site that makes money from advertising. We have a modified experience for viewers using ad blockers

Wikia is not accessible if you've made further modifications. Remove the custom ad blocker rule(s) and the page will load as expected.