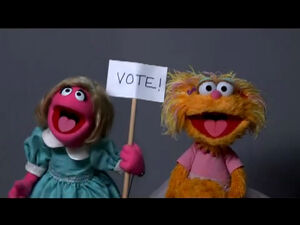 The Creative Coalition is a nonprofit, nonpartisan, politically-active group formed by members of the American film entertainment industry.
In October, 2008, the group released a video called "You Vote" on YouTube and its website to urge viewers to vote in the United States Presidential election.
Zoe and Prairie Dawn appear briefly in the video. Other celebrities in the video include Amy Brenneman, Anne Hathaway, Samuel L. Jackson, Jane Krakowski, Ricki Lake, Matthew Modine, John Leguizamo, Kathy Najimy, Susan Sarandon, and Richard Schiff.
External links
Ad blocker interference detected!
Wikia is a free-to-use site that makes money from advertising. We have a modified experience for viewers using ad blockers

Wikia is not accessible if you've made further modifications. Remove the custom ad blocker rule(s) and the page will load as expected.