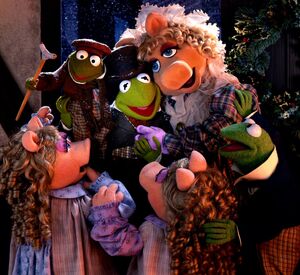 The Cratchit Family are key figures in Dickens' A Christmas Carol.
In The Muppet Christmas Carol, the members of the family include Bob Cratchit, wife Emily Cratchit, older son Peter Cratchit, twin daughters Betina and Belinda Cratchit, and youngest son Tiny Tim Cratchit.
The offspring of the frog and pig couple follow common cartoon convention of the boys (Peter and Tim) being frogs, like their father, while the girls (Betina and Belinda) are pigs, like their mother.
Ad blocker interference detected!
Wikia is a free-to-use site that makes money from advertising. We have a modified experience for viewers using ad blockers

Wikia is not accessible if you've made further modifications. Remove the custom ad blocker rule(s) and the page will load as expected.