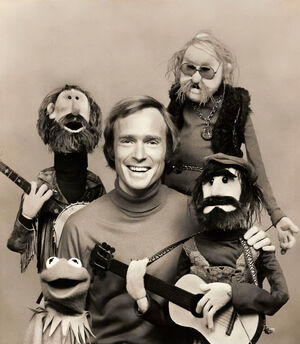 The Country Trio was a hillbilly band consisting of Muppet versions of Jim Henson, Frank Oz, and Jerry Nelson. Jim played banjo, Frank played bass, and Jerry played guitar.
They were created for an appearance on The Perry Como Winter Show in 1972, where they sang "You Don't Mess Around with Jim." In 1973, they sang "Mama Don't Allow" on The Dick Cavett Show. After their song, Cavett interviewed Henson, Oz and Nelson with their puppet characters. In this segment, the members of the Trio addressed each other as "Jim," "Frank," and "Jerry."
The puppets also appeared in The Muppet Show: Sex and Violence and several episodes of The Muppet Show, including episodes 105 and 123.
Ad blocker interference detected!
Wikia is a free-to-use site that makes money from advertising. We have a modified experience for viewers using ad blockers

Wikia is not accessible if you've made further modifications. Remove the custom ad blocker rule(s) and the page will load as expected.