Ad blocker interference detected!
Wikia is a free-to-use site that makes money from advertising. We have a modified experience for viewers using ad blockers

Wikia is not accessible if you've made further modifications. Remove the custom ad blocker rule(s) and the page will load as expected.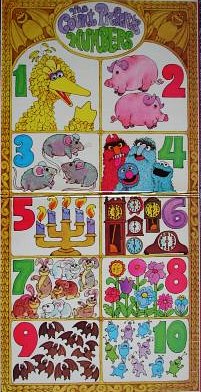 The Count Presents Numbers is a 1981 2-LP set, containing previously released albums: The Count Counts (1975) and Numbers! (1977).
Record One
Side One
Introduction
Written by Joseph A. Bailey
Ladybug's Picnic - Dwayne Wayne
(Hadley-Luckey)
Counting Is Wonderful - The Count
(Kingsley-Axlerod-Pottle)
It's a Lovely Eleven Morning - Tammy Whynot
(Hadley-Luckey)
The "15" Commercial - Guy Smiley
Written by Joseph A. Bailey
Ten Turtles - The Amazing Slim and His Country Turtlenecks
(Hadley-Luckey)
The Count's Weather Report - The Count
Written by Joseph A. Bailey
Martian Beauty - The Mariners Nine
(Hadley-Luckey)
Numerical Correspondence (Sing a Song of Numbers) - The Transylvanian Symphony
(Korr-Axlerod-Pottle)
Candy Man - Jerry Lee Nelson
(Hadley-Luckey)
It's Been a Long, Long Time - The Royal Transylvanians
(Cahn-Styne)
The Alligator King - The Alligator King
(Hadley-Luckey)
Count It Higher - Chris and the Alphabeats
Written by Christopher Cerf
Side Two
Counting is Wonderful (reprise) - The Count
(Kingsley-Axlerod-Pottle)
Country Six (The Snail Song) - The Amazing Slim
(Hadley-Luckey)
Numbers in the News - The Count
Written by Joseph A. Bailey
1-2-3-4-5! - Five Bat Night
(Scott-Textor)
Beep - Two Anything People
(Kingsley-Pottle)
Four Big Lions - The Amazing Slim
(Hadley-Luckey)
I Just Adore "4" (from the musical comedy "Two Plus Two") - Big Bird and the Tarnish Brothers
(Bailey-Pottle)
The "3" Song - The Amazing Slim and His Counting Fools, featuring "Red" Sales and His Son Seth
(Hadley-Luckey)
Subtraction Blues - David
(Bailey-Pottle)
Doll House - Dolly Pardon
(Scott-Textor)
The Song of The Count - The Count
(Kingsley-Moss)
Record Two
Side One
Other releases
C 89005 (Sesame Street cassette)
See also