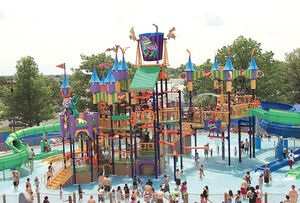 The Count's Splash Castle is a "multi-level interactive waterplay attraction" that opened at Sesame Place on May 2, 2009. Themed around Count von Count and manufactured by SCS Interactive, the attraction spans over 38,000 square feet and feature over 90 play elements including a 1,000 gallon eight-foot tipping bucket, multiple water slides, water curtains, bridges, hydro blasters, hose jets, and water wheels.
The Count's Splash Castle is said to be "the biggest attraction in the history of Sesame Place". The attraction is located in the southern part of the park, replacing three water play areas: The Count's Fount, Little Bird's Birdbath, and Little Bird Rapids.
One of the clocks on the structure is patterned after the clock in the Pinball Number Count animated segment.
See also
Ad blocker interference detected!
Wikia is a free-to-use site that makes money from advertising. We have a modified experience for viewers using ad blockers

Wikia is not accessible if you've made further modifications. Remove the custom ad blocker rule(s) and the page will load as expected.