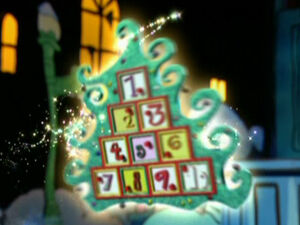 The Christmas Counter-Downer is an official device held by Stiller the Elf. The Counter-Downer contains ten boxes that help count down the last 10 days to Christmas. Without it, Christmas can't happen.
The Counter-Downer is based on the Advent calendars which originated in Germany. Whenever a box is re-inserted into the Counter-Downer, a little gift is found inside the box, which segues into a video sequence.
Oscar the Grouch was selected to be the official counter-downer in Elmo's Christmas Countdown. However, due to his distaste for the holiday, Oscar tossed the device away and the boxes were scattered across Sesame Street, leaving Elmo, Abby Cadabby and Stiller to re-collect the boxes on their own. Luckily, they had help from, Bert, Big Bird, Ernie, Baby Bear, Papa Bear, Mama Bear, Super Grover, and Alicia Keys.
Boxes
Ad blocker interference detected!
Wikia is a free-to-use site that makes money from advertising. We have a modified experience for viewers using ad blockers

Wikia is not accessible if you've made further modifications. Remove the custom ad blocker rule(s) and the page will load as expected.