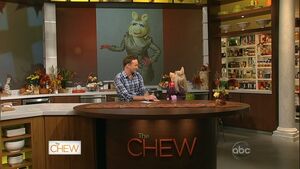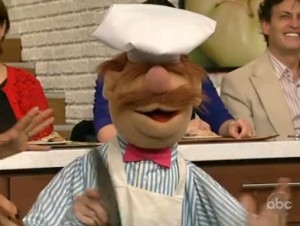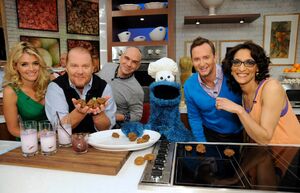 The Chew is a cooking program, which has aired weekdays on ABC since 2011. It replaced longtime soap opera All My Children. The series hosts are Michael Symon, Carla Hall, Clinton Kelly and Daphne Oz. The Muppets have made several appearances on the show.
Appearances
April 2, 2012 -- Cookie Monster appears in the episode "Perfect Pairings" to promote Big Elmo Fun. He joins Chef Mario Batali to make "no-bake chocolate cookies."
September 20, 2012 -- Elmo appears to help Mario Batali make "Broccoli Rabe Pesto."
October 23, 2012 -- Cookie Monster dresses as "Cookie Batali", and helps bake Halloween treats with Mario Batali.
External links