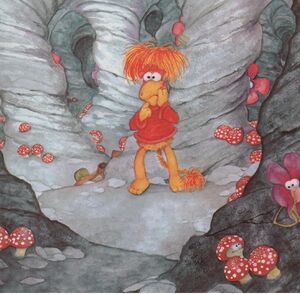 The Cave of the Lost Fraggle is featured in the Fraggle Rock storybook The Cave of the Lost Fraggle. No one has ever returned from exploring the Cave, and Fraggle legend has it that strange echoes in the Cave are from the voices of Fraggles who had lost their way trying to get out. The Cave is located past the Marsh of the Mushy Mushrooms, the Mountain of Many Mysteries, and the River of the Raging Rapids.
Gobo dared Red to explore the cave after she declares that there is nothing that she isn't better at, including exploring. Since his Uncle Traveling Matt wouldn't even explore the cave, Gobo begins to worry about Red's safety, and he organizes a Fraggle rescue party, which combs its way through the cave with a fraggle chain, until they reach Red safely.
Ad blocker interference detected!
Wikia is a free-to-use site that makes money from advertising. We have a modified experience for viewers using ad blockers

Wikia is not accessible if you've made further modifications. Remove the custom ad blocker rule(s) and the page will load as expected.