The Cat in the Hat
Talk

3
26,848pages on
this wiki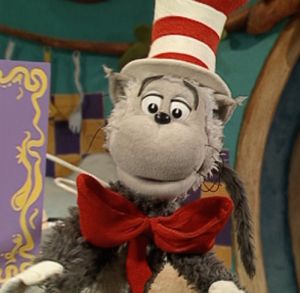 The Cat in the Hat starred in The Wubbulous World of Dr. Seuss. A Muppet version of the character created by Dr. Seuss in 1957, the Cat lives in a large playhouse, from which he observes goings on in the Wubbulous World through his Wubbuloscope. Though still speaking in rhyme, he is a sometimes more sedate character than his print counterpart, particularly in the second season. With the assistance of the Little Cats, he serves as mentor to his friend Terrence McBird and acts as gentle host to the home audience.
Before The Wubbulous World of Dr. Seuss went on the air, The Cat in the Hat appeared at the 1996 Kids' Choice Awards.
His role is being a trickster and narrator in the first season and in the second season his role is being a nurturing, sweet, smart, helpful, and friendly host to the kids at home.
Before the second season of "The Wubbulous World of Dr. Seuss", The Cat, the Little Cats and Terrence McBird were in the Nick Jr. promo segment called "Ask The Cat" in 1998. "Ask the Cat" is where The Cat in the Hat answers questions from three kids