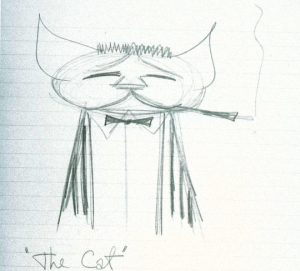 The Cat was one of the four main characters sketched by Jim Henson, but never built, intended for the proposed puppet series The Zoocus. The Cat, who embodied his title in both the literal sense and the colloquial, was a hipster feline. Henson's notes described him as "crew cut, very blase', talks in musical jazz talk, 'like man, you're not in my key'... may have some connection with the music of show (i.e. musical arranger, vocalist, etc.)"
Though "The Cat" was never built, the concept of hipster musicians would be carried over into The Muppet Show, most notably through Floyd Pepper.
Ad blocker interference detected!
Wikia is a free-to-use site that makes money from advertising. We have a modified experience for viewers using ad blockers

Wikia is not accessible if you've made further modifications. Remove the custom ad blocker rule(s) and the page will load as expected.