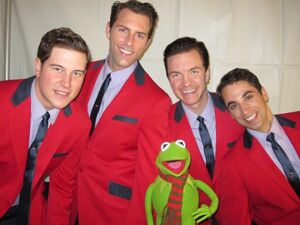 Jersey Boys is a Tony award winning jukebox musical presented as a documentary-style musical, based on the Four Seasons. The musical opened on Broadway in 2005, and has since had a North American National Tour, along with productions in London's West End, Las Vegas, Chicago, Toronto, Melbourne, Sydney and Philadelphia. Jersey Boys won four 2006 Tony Awards including Best Musical.
Kermit the Frog was pictured with the touring cast of Jersey Boys at The National Christmas Tree Lighting in 2011, where both performed.
External links
Ad blocker interference detected!
Wikia is a free-to-use site that makes money from advertising. We have a modified experience for viewers using ad blockers

Wikia is not accessible if you've made further modifications. Remove the custom ad blocker rule(s) and the page will load as expected.