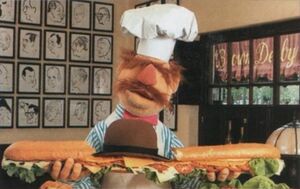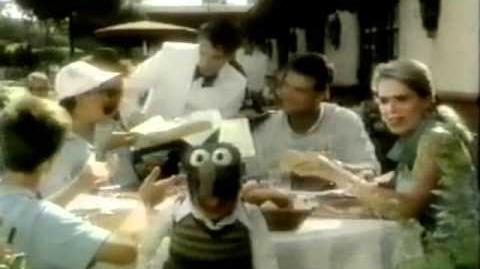 The Brown Derby was a chain of restaurants located in Los Angeles, California. The most famous of the locations was the original. Opened in 1926 on Wilshire Boulevard and shaped like a men's derby hat, it became an iconic image synonymous with the Golden Age of Hollywood. A Hollywood branch, without the hat facade, opened in 1929 and became equally important, if less visually distinctive.
The restaurants were immortalized in the tales of deal makings from the neighboring movie studios taking place over lunch, the drawings which graced its walls, and its appearances in many movies and television series, including I Love Lucy.
Other locations have appeared in Las Vegas and Walt Disney World. It was at the Disney World location that the Swedish Chef appeared in publicity materials for the parks, with his own version of one of their signature sandwiches.
In a commercial for Here Come the Muppets, Fozzie Bear, Rowlf the Dog and Gonzo briefly cause mayhem in front of the restaurant resulting in a waiter spilling food on some park guests.