The Breakfast Club
Talk

0
25,900pages on
this wiki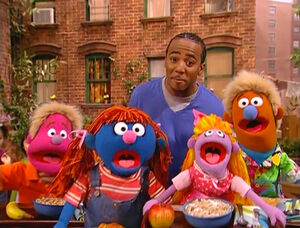 The Breakfast Club is a 1985 movie written and directed by John Hughes. The film chronicles five teenagers as they are forced to spend a Saturday together in detention. While the five would normally not cross paths in school due to their cliques (the jocks, the geeks, etc.), they break down barriers and become friends. The film has become iconic, influencing numerous films and directors, and has gained a large cult following.
The movie title was spoofed in episode 4113 of Sesame Street, where Miles, Zoe, Baby Bear and others sing the praises of a healthy Breakfast with the members of their "Breakfast Club".
In a Shalom Sesame episode, Moishe Oofnik is sitting in front of a Hebrew movie poster for 'The Breakfast Club.
Connections
External links