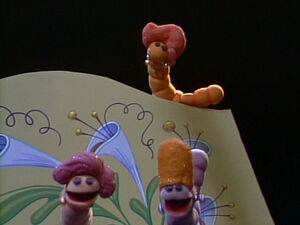 The Bookworms were three female worms who performed as singers on Sesame Street. Unlike Slimey, they were actually hand puppets. They performed in front of a book-like background, which helped to create the illusion that they were small.
They sang "I'm a Bookworm, Baby!" in a sketch in 1991 with the lead singer, an orange worm, voiced by Ivy Austin.
Ad blocker interference detected!
Wikia is a free-to-use site that makes money from advertising. We have a modified experience for viewers using ad blockers

Wikia is not accessible if you've made further modifications. Remove the custom ad blocker rule(s) and the page will load as expected.