The Blue Danube
Talk

0
26,858pages on
this wiki
| | |
| --- | --- |
| Written by | Johann Strauss II |
| Date | 1867 |
| Publisher | public domain |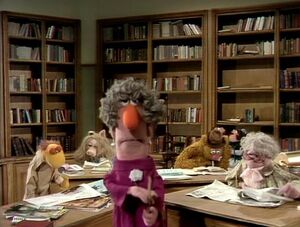 "The Blue Danube" is the popular name for "By the Beautiful Blue Danube," also known as "the Blue Danube Waltz". Although the piece by Johann Strauss, Jr. (as what would become categorized as his opus #314) was originally meant to have been accompanied by lyrics, the composer favored the orchestral version. It stands in this form as one of the most popular pieces of classical music today.
The song is in episode 124 of The Muppet Show featuring Zelda Rose as a librarian who conducts a group of noisy patrons (Fozzie, Miss Piggy, Hilda, Nigel, and Wayne and Wanda) as they cough, rustle paper, chew gum, etc to the tune of "The Blue Danube." This sketch was later marketed on its own as a Muppet Meeting Film "Teamwork in Action".
On Sesame Street, Madame Schwartzhead sings about front and back to this song. The song is also featured on the Sesame Street album, Elmo and the Orchestra. In Music Works Wonders, Big Bird, a duck, and a chicken make bird noises to the tune of "The Blue Danube." Later, Telly joins in with his triangle instrument, Rosita uses her feet to stomp, and Hoots the Owl plays his saxophone to the tune. It was also performed by Béla Fleck as a "concerto for banjo and two chickens". (EKA: Episode 4003)
In the second episode of The Jim Henson Hour, Kermit dances in water to the tune of "The Blue Danube" at one point when water gets on the floor of Muppet Central.
In the Bear in the Big Blue House episode, "As Different as Day and Night," Ojo and Treelo dance slow to this music.
On Sesamgade the song played during episode 18, where Elmo made a dance jukebox.
Internet Video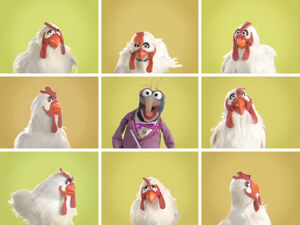 "The Blue Danube Waltz" (also "Classical Chickens") is a viral video starring Gonzo the Great, Camilla and some chickens. Gonzo conducts a rendition of "The Blue Danube" as clucked by chickens. Statler and Waldorf appear at the end.
The video was posted on various websites (including MySpace, YouTube, Vimeo, and others) in 2008. The video was said to be posted by Gonzo using such usernames as thegreatgonzo, weirdowhatever and bluenosedgeek.
Gonzo had previously conducted a chorus of chickens in clucking "The Blue Danube" for The Muppet Show Live (2001).
External links