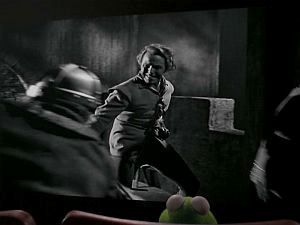 The Black Arrow is a 1948 film produced by Columbia Pictures, a swashbuckling adventure based on the Robert Louis Stevenson novel and starring Louis Hayward, Janet Blair, and George Macready.
In Kermit's Swamp Years, The Black Arrow (identified on the marquee as Swords of Fire) is playing at the Hartis cinema, and Young Kermit, Croaker, and Pilgrim watch the film while waiting for the dogcatcher to leave. Young Kermit is entranced by the film, particularly the swordfights, and feels inspired to become a movie star. Clips include George Macready as the devious Sir Daniel solemnly explaining how the hero's father died, and Louis Hayward fighting the enemy guards to rescue his love, among others.
External links
Ad blocker interference detected!
Wikia is a free-to-use site that makes money from advertising. We have a modified experience for viewers using ad blockers

Wikia is not accessible if you've made further modifications. Remove the custom ad blocker rule(s) and the page will load as expected.