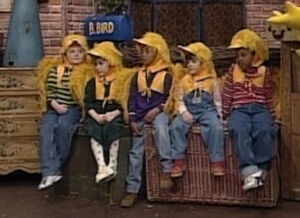 The Birdketeers, a counterpart to the Grouchketeers, was formed by Big Bird when Oscar the Grouch refused to let him into his club.[1] The group is led by Big Bird and includes various kids and, on occasion, Mr. Snuffleupagus, amongst others.
Miles joined the Birdketeers in a 1986 episode, and Monty once sang "Being a Birdketeer" as a tribute to the happiest day of his life.
Big Bird made Willard Scott a Birdketeer, with his own outfit, during an appearance on Today (as seen in Time and Again).
Book appearances
See also
Sources
↑ Sesame Street Unpaved page 34
Ad blocker interference detected!
Wikia is a free-to-use site that makes money from advertising. We have a modified experience for viewers using ad blockers

Wikia is not accessible if you've made further modifications. Remove the custom ad blocker rule(s) and the page will load as expected.