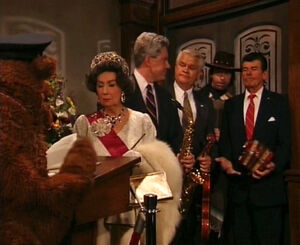 The Billy Crystal Band was to have played a jazz number with Billy Crystal for the finale of Muppets Tonight episode 103, but they were held up at the studio door by Bobo. Acting dutifully for his first day on the job, he refused to let anyone in to the studio whose name was not on the guest list.
Neither the band name, nor the individual players -- Bill Clinton, Queen Elizabeth II, Boris Yeltsin, Clint Eastwood (as The Man With No Name), and Ronald Reagan -- were scheduled to come on, as their invitation came halfway through the show.
Ad blocker interference detected!
Wikia is a free-to-use site that makes money from advertising. We have a modified experience for viewers using ad blockers

Wikia is not accessible if you've made further modifications. Remove the custom ad blocker rule(s) and the page will load as expected.