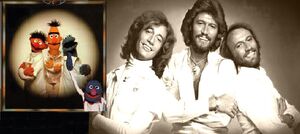 The Bee Gees were a musical group consisting of brothers Barry, Robin and Maurice Gibb. The brothers began performing in 1958, and were a successful soft rock act in the 1960s. It was the 1970s and the disco movement that cemented their fame and popularity, and the band continued performing until the death of Maurice in 2003. The surviving brothers took time off from the band, but re-formed under the same name in 2009.
One of their hit songs from the Saturday Night Fever album, "Stayin' Alive", has been performed by the Muppets on multiple occasions, including The Muppet Show, American Idol Gives Back, and at Universal Studios Japan.
In the Fall 1983 issue of Muppet Magazine, "Floyd's Record Rap" includes a Bee Gees album in his column.
The trio's pose on the cover of the Saturday Night Fever soundtrack was spoofed with Ernie, Bert and Cookie Monster on the cover of the Sesame Street Fever album.
External links