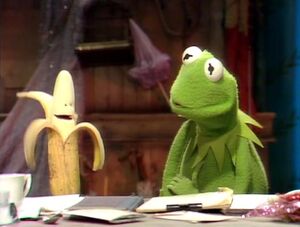 The "famous" Banana Sketch, written by Gags Beasley, was a controversial topic in episode 114 of The Muppet Show. Kermit the Frog knew nothing about the sketch, but everyone else, including guest Sandy Duncan, considered it absolutely hilarious. And every time Kermit tried to find out what it was, everyone would crack up before they'd finish it.
Ad blocker interference detected!
Wikia is a free-to-use site that makes money from advertising. We have a modified experience for viewers using ad blockers

Wikia is not accessible if you've made further modifications. Remove the custom ad blocker rule(s) and the page will load as expected.