The Art of the Muppets (exhibit)
Talk

2
25,900pages on
this wiki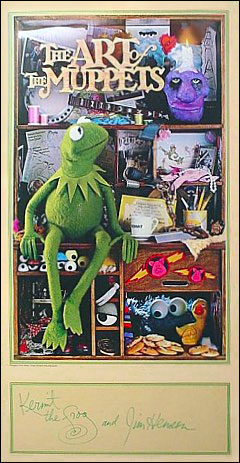 The Art of the Muppets was a touring exhibit designed by Henson staffer Mari Kaestle, which made its debut at the Lincoln Center in New York City in 1979. The exhibit showcased Jim Henson's creations, featuring photos, puppets, and video footage.
Various posters and promotional materials were created to garner interest in a nationwide tour which included puppets from several Jim Henson productions including Sesame Street, The Muppet Show, the "Land of Gorch" characters used during the first season of Saturday Night Live and one of Henson's earliest series, Sam and Friends. Highlights of the exhibition included a touch wall, set up for visitors to feel the actual materials that went into the construction of the characters, an audio tour with Kermit the Frog and a model showing how Kermit and Miss Piggy managed to ride bicycles in the productions.
Due to the exhibition's success, a touring version was created. Starting at The San Diego Museum of Art, it toured twenty additional cities, finishing the tour at London's Museum of the Moving Image in 1988.
A book was released in conjunction with the tour, The Art of the Muppets.
Known venues
Additional venue, not recognized by the Jim Henson Company Archivist[1]:
London Regional Children's Museum in London, Ontario: 1990
Gallery
Sources
↑ Jim Henson's Red Book - 10/21/1985 "In Indianapolis – Art of Mups"