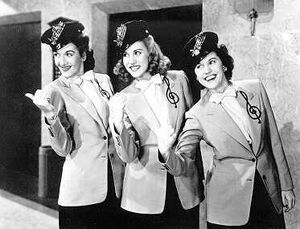 The Andrews Sisters (Patti, Maxene, and LaVerne) were a group of singing sisters who first came to national attention with their recordings and radio broadcasts in 1937. Songs popularized by the Andrews Sisters have become among the most iconic recordings of the World War II era, and several have been performed in Muppet and Henson productions. The sisters themselves have also been parodied.
References
"I'll Be With You in Apple Blossom Time," another song popularized by the Andrews Sisters, was played in the background of one of the canteen scenes in "A Frog Too Far," the World War II movie spoof in the 1981 special The Muppets Go to the Movies.
Ad blocker interference detected!
Wikia is a free-to-use site that makes money from advertising. We have a modified experience for viewers using ad blockers

Wikia is not accessible if you've made further modifications. Remove the custom ad blocker rule(s) and the page will load as expected.