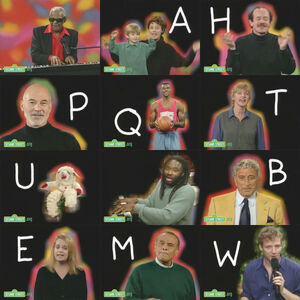 "The Alphabet Song" is a popular children's song in which the letters of the alphabet are sung to the tune of the French folk melody "Ah vous dirais-je, maman," more commonly known as the melody of "Twinkle Twinkle Little Star." "The Alphabet Song" has been performed countless times on Sesame Street, including in street scenes, animated segments, filmed inserts, and by celebrities. One of its most memorable renditions is by Kermit and a kid named Joey on Episode 0536; Joey replaces several letters of the alphabet with "Cookie Monster."
Sesame Street Performances
Videos
Releases
Audio
Video
Online
Ad blocker interference detected!
Wikia is a free-to-use site that makes money from advertising. We have a modified experience for viewers using ad blockers

Wikia is not accessible if you've made further modifications. Remove the custom ad blocker rule(s) and the page will load as expected.